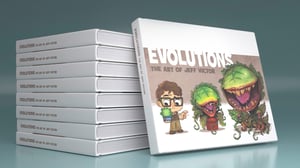 $

30.00 - On Sale
This gorgeous collection of Jeff Victor's Evolution art features 178 pages of superheroes, actors, monsters, and all your favorite pop culture characters and how they evolved over the years. This exclusive book is strictly limited to 700 copies, and WILL NOT be available anywhere else online. You can buy several different options, so please read carefully.
1. A digital copy of the book (located on a separate page in my store inventory)
2. A hardcover edition physical copy, which will come signed by the artist. Includes a free bonus print and digital copy.
3. A Remarqued Edition, which will come signed, feature a hand drawn sketch on
the inside endpapers (my choice of character) and come with two bonus prints. Includes Digital Copy.
View a flip through preview of the book here: https://www.youtube.com/watch?v=qSLLeS_MG9M
Please be aware that the post office has been slowing down orders recently, which could cause a delay of your book. I appreciate your patience.
Thank you!
-Jeff